Call us with the model and year of your Ford. We will let you know if we can create a key for you.

Locksmith Services for Ford: 480-941-7239
Cars lock out
Ignition repair
Trunks lock out
Ignition rekey
Pickups lock out
Replace keyless entry remotes
Lost keys replacement
Repair broken or worn out keys
Chip keys cut
Broken keys extracted
Chip keys programmed
High security keys cut
Transponder keys
High security keys program
Chip keys duplicate
Ford vehicles overview and locksmiths.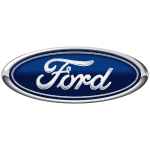 Ford was launched in a converted factory in 1903 with $28,000 in cash from twelve investors, most notably John and Horace Dodge (who would later found their own car company). During its early years, the company produced just a few cars a day at its factory on Mack Avenue in Detroit, Michigan. Groups of two or three men worked on each car from components made to order by other companies. Henry Ford was 40 years old when he founded the Ford Motor Company, which would go on to become one of the world's largest and most profitable companies, as well as being one to survive the Great Depression. As one of the largest family-controlled companies in the world, the Ford Motor Company has been in continuous family control for over 100 years.
Ford cars keys and ignition information .
Ford started with the smart chip keys in mid 1996. The first vehicle was Contour. May common problems found in many for cars, the most common are is that the key won't turn the ignition ,mostly found in ford pickups trucks , dust finds hes way into the ignition and builds up inside till the ignition is compliantly jam ,at this point the ignition has to be replace ,once the ignition is removed ,the new ignition has to be re-key to match to old key because of chip inside the key, otherwise the car won't start , on many of the f-250 or f-350 there is no need to re-key the ignition if you want to save money ,most of them dos not have a chip in the key.
Locksmith service for Ford vehicles
we can replace lost  ignition keys and program  chip keys duplicate all d chip keys.  high security keys. Repair or replace, re-key Ford ignitions. Extract broken keys from all Ford vehicles. We also program all Ford remote keyless entry.
Ford Mustang
Ford has been making the Mustang GT for decades now with no end in sight.  The engine has evolved over the years to the current efficient power plant that produces enough power to lay some tracks. This car has a security system, which is especially important to have in Phoenix. The Mustang has great lines and a clean interior to match, but if you lock your keys in the trunk you may need to call the locksmith.  The throaty exhaust, low slung headlights and impressive throwback tail end will keep the looks coming.
Services for Ford Models:
Crown-Victoria
Econoline club wagon vans
Explorer sport track
Ranger pick up
Aerostar
Aspire
Bronco
Contour
Courier
Edge
Escape
Excursion
Escort
Expedition
Explorer
Festiva
Fiesta
Five hundred
Focus
Flex
Mustang gt
Freestar
Freestyle
Fusion
Mustang
Probe
Taurus
Tempo
T bird
Windstar
F series
F-150
F-250
F-350
F-450