Did you just get locked our of your car? If your answer is "yes" just call us now (480)-941-7239 and one of our professional's locksmiths will be on the way. Just call us now (480)-941-7239.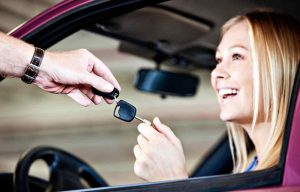 Stress is a natural response to being locked out of a car, especially when you're on a tight schedule. But, even if you have nowhere to go, temporarily losing your mobility is usually frustrating. You could continue to worry about the situation and struggle to find a solution, or you could take the easy way out, and contact an auto locksmith. Arizona Keys Locksmith is licensed, bonded, insured and can get you back inside your car quickly. All you have to do is call us at (480)-941-7239.
When You're Locked Out
How did it happen that you're locked out of car, but the keys are in the ignition or on the seat? There are a few common reasons why people end up with locked keys in car.
• You left the keys in the ignition because you were distracted. Maybe the kids were acting up in the back seat, and you turned about to break it up. It could be that something going on outside the auto caught your attention, or perhaps you were talking or texting on a cell phone and forgot the keys.
• You took the keys out of the ignition, put them on the seat to do something else and forgot to pick up the keys.
• You thought you dropped the keys into a purse or pocket but realized after you closed and locked the doors that keys are still in the auto. They probably missed the purse or pocket and landed on the seat or floor.
There are other reasons people end up locked out of the car, but the reason why isn't as important as finding a way to get back in the vehicle. Call us at (480) 941-7239, and let our experienced team of technicians open your car with no hassle. We have extensive knowledge and experience when it comes to locksmith car keys, and we'll use that to help you. From Isuzu, Ford, and Jeep to Kia, Mitsubishi and Subaru, our team can give you the exact locksmith car keys service you need.
Making You Mobile Again
Our approach to getting you back in your vehicle after being locked out of car involves two simple steps. First, we come when you call, no matter what time of day or night. And, with a wide locksmith car keys service area, you won't have to worry about being too far away for us to reach you. Cities we serve include the following.
• Carefree
• Cave Creek
• Chandler
• Fountain Hills
• Gilbert
• Mesa
• Paradise Valley
• Phoenix
• Scottsdale
• Tempe
• Ahwatukee
• Apache Junction
• Avondale
• Glendale
• Laveen
• Peoria
• Sun Lakes
• Tolleson
Our second step when you are locked out of a Ford, Honda or other car is to get you back in. Our skilled team of technicians has all the tools necessary to access your vehicle, which means you can get back behind the wheel in no time. Because we provide full auto locksmith services, we do more than unlock car doors. If you need replacement car keys, lock replacement, ignition rekey or another service, we are ready and able. Call us at (480)-941-7239.
Types of Cars We Service
• Acura
• Buick
• Cadillac
• Chevrolet
• Chrysler
• Dodge
• Ford
• GMC
• Honda
• Hyundai
• Infiniti
• Isuzu
• Jeep
• Kia
• Lexus
• Lincoln
• Mazda
• Mercury
• Mitsubishi
• Nissan
• Pontiac
• Saturn
• Scion
• Subaru
• Toyota
Let Us Help
Locked keys in a car can put you late for work or school, keep you from running errands when you need to and totally alter your schedule. Sometimes the situation is potentially harmful. What if you lock the keys in the car with the baby still strapped in a car seat? When you're trying to get somewhere fast because of an emergency situation, what do you do if you can't drive?
Arizona Keys Locksmith can help relieve the stress of being locked out of the car. Call (480) 941-7239 to have us unlock car doors, repair broken or worn out keys, ignition rekeys and more. We have years of experience, and we are licensed, bonded and insured. When you need a locksmith for cars, whether it's an Acura, Ford, Buick or Cadillac, let us help.