Call us with the model and year for your Scion. We will let you know if we can create a key for you.

Locksmith Services for Scion:
Call Now 480-941-7239
Scion cars lock out
Scion trunks lock out
Scion pickups lock out
Scion lost keys replacement
Scion chip keys cut
Scion chip keys programmed
Scion transponder keys
Scion chip keys duplicate
Scion ignition install
Scion ignition repaired
Scion ignition rekey
Scion replace keyless entry remotes
Scion repair broken or worn out keys
Scion broken keys extracted
Scion high security keys cut
Scion high security keys program
Scion vehicles overview and locksmiths.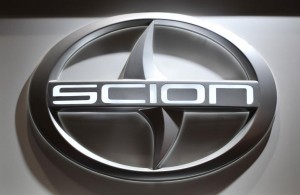 Scion was first introduced in March 2002, at the New York Auto Show. There were just two concept vehicles, the bbX (which was to become the xB), and the ccX, which was to become the tC. The 2004 xA and xB were unveiled at the Greater Los Angeles Auto Show on January 2, 2003. They were available only in 105 Toyota dealerships in California at their initial launch on June 6, 2003. The subsequent rollout of the brand to the South, the Southeast, and the East Coast occurred in February 2004. Scion vehicles were available nationwide in June 2004, coinciding with the release of the 2005 tC. On December 16, 2006, Scion unveiled the next-generation xB, based on the t2B concept, and the new xD, successor of the xA, at an invitation-only, no-camera event in Miami. Both cars were then publicly unveiled on February 8th, 2007 at the 2007 Chicago Auto Show. Scion stems from Toyota's well publicized use of Value Innovation, a series of articles in Harvard Business Review later encapsulated in the book Blue Ocean Strategy. Key factors of Toyota's strategy canvas were never published but include "Price," "Factor Options," "Performance driving metrics," "Confidence in buying," "21st Century Radio."
Scion vehicles keys and ignition information
Scion started with the smart chip keys in 2005 the first vehicle was Scion Tc.
Locksmith service for Scion vehicles.
As a locksmith we can replace lost Scion ignition keys and program, Scion chip keys duplicate all Scion chip keys. Scion high security keys. Repair or replace, re-key Scion ignitions. Extract broken keys from all Scion vehicles. We also program all Scion remote keyless entry.
Services for Scion Models:
Scion XA
Scion XB
Scion TC
Scion XC